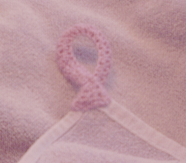 © Kake
This pattern is by Kake L Pugh and is released into the public domain.
Abbreviations: ch = chain; dc = UK double crochet (US single crochet)
Make slip loop and 4ch.
Make dc rows until long enough (leave 1cm on each end for sewing to towel).
Make 3dc in the last dc of the last row, instead of 1. Turn to the side and continue the row for 4dc down the edges of the rows.
Fold in half lengthways and continue to make dc down the edges of the rows, but working both pieces of fabric together, and skipping every other row or so to make it curve. When you reach the edge of the 5th row from the start, continue to work on one piece of fabric only.
Sew to towel.
Last edited 2007-06-06 12:42:51 (version 1)