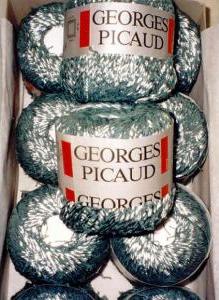 A novelty yarn.
The ball band recommends a gauge of 24 stitches and 32 rows per 10cm (4in) square, on 3.5mm (UK size 9, US size 4) needles.
66% viscose, 17% cotton and 17% acrylic.
The main colour is silvery (viscose), with little slubs of a sage-green poking out every so often (cotton and acrylic).
Last edited 2007-06-06 12:58:34 (version 1)