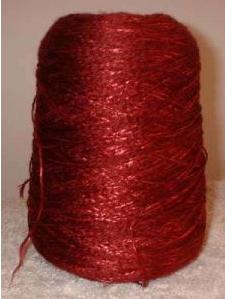 Sonnet cardigan for Marna - 2-ply red yarn with glitter thread (ebay) (see photo to right) - held with the black Monte Cristo (cotton/acrylic mix, feels like brushed cotton sheets!) that I got from ebay.
Two strands of the red held with one strand of the black on 6mm needles gives 4 st/inch in garter stitch.
Started on Wednesday 24 September 2003. Body (worked in one piece) completed Sunday 28 September 2003. Still not finished - need to find it and sew it up.
Notes on the pattern
I did the cast-off, cast-on buttonhole method. It took a minute to work out how to cast back on - solution is to turn the work around, cast on, turn back around. There seem to be some stray strands in some of the buttonholes and I will work an edging to secure them.
Sleeves - the pattern says to work in box stitch in the middle 12 stitches, but this won't be symmetrical, so I'm working it in the middle 10 stitches. I wouldn't like to work the sleeves without stitch markers.
I'm working the sleeves top-down. Having done some sums comparing the surface area of the body to the number of balls used, I think I will just not have enough Monte Cristo to finish. I'm going to improvise.
Photos
The photos below show: the body of the cardigan (fairly true colours); the stitch pattern as worn; the stitch pattern as knitted. Note that the body is knitted side to side rather than bottom to top.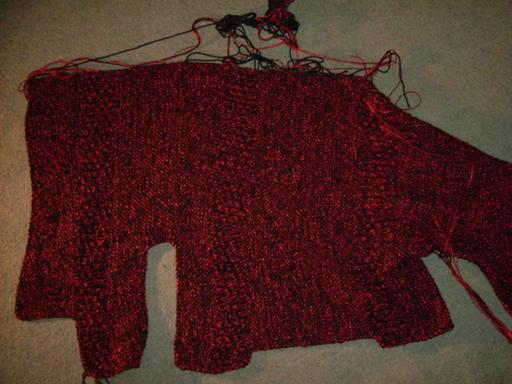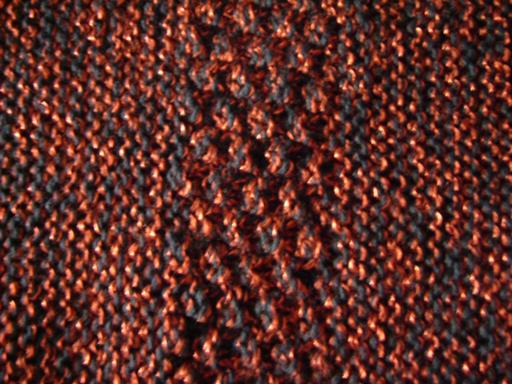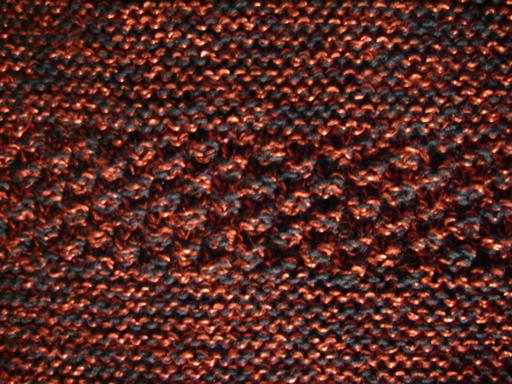 ---
See Also: Kake's Projects