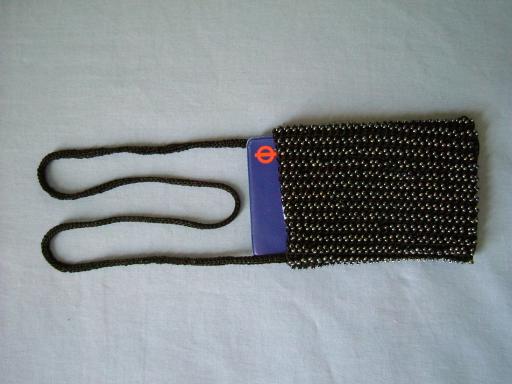 Crocheted beaded thing to hang round my neck and put my Travelcard in when I have no pockets.
Ingredients: 5-count 100% viscose black cotton, anthracite lustre 2mm beads from jillybeads (see photo), 2.5mm crochet hook.
Recipe: Er, I think 25 ch to cast on? Or 30? Must count them. First row is just dc. Second row slip two beads per dc. Third row slip 1 bead per dc. Repeat second and third row until long enough, then fold and crochet edges together.
(See http://www.seafore.com/purses/p1.htm for where I learned to do bead crochet.)
I chose to have the two-bead side on the outside.
The cord is a 4-stitch I-Cord done on 2.25mm needles in the same thread used for the body, no beads.
Completed 16 September 2003.
---
Techniques learned on this project: [Crocheting with beads]?, I-Cord