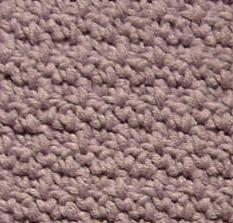 © Kake
This never actually happened. It was meant to be an excuse to teach doop to knit; we were going to make 8-inch squares in a variety of purples, and attach them together. But the only square that got done was:
one crochet square by Kake in lilac Filclass Hermoso (100% cotton) - name of stitch unknown, it's alternate double and treble crochet, as in Kake's Red Crochet Socks. See picture to right! The stitches are staggered by one on each row, so you get:




DC TC DC TC DC TC
TC DC TC DC TC DC




and the tails of the trebles sort of poke down into the row below.