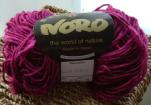 Manufacturer: [Noro]?
Composition: 40% silk, 30% lambswool, 20% cashmere, 10% nylon
Cost: about £8 for a 50g ball (January 2004)
This is a luxury yarn. It feels and looks gorgeous and is wonderful to knit with. Like most Noro, it breaks fairly easily so be careful if you want to pull at it to tighten it up or something. It also comes with the drawbacks that I've seen in other Noro - more knots (joins) than you really want at this price, and bizarre (but easily removable) contaminants such as bits of wood.
The colours are vibrant and fairly solid but do have slight, natural, and rather nice variation within the skeins.
The thickness varies within the skein.
Looks very good in [moss stitch]?.
A 50g ball will make a baby/toddler/child's hat. You'll need a bit over a ball for even a small adult hat.