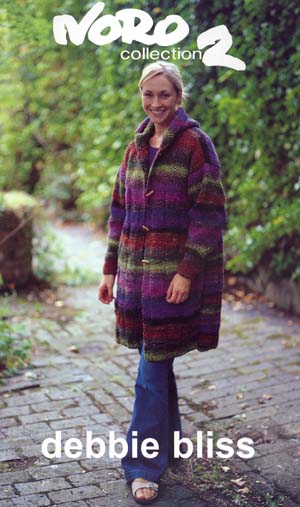 Note: I got the fronts and back of this knitted up, attached them together and it's far too big for me even though I'm on gauge. It looks like I simply made the wrong size. I'm going to undo it all and make a smaller one. However rather than just doing the same pattern again, I'm going to try and make one up. See Kake's Noro Coat - The Sequel!
Noro Iro shade 51 lot E
Debbie Bliss Noro collection 2 hooded coat
I abandoned my plans to swatch this, since the pattern is simply so wide that I thought I may as well just start the thing. I only bought one skein to start with to check I liked the look, so knitting to pattern will help me see how the bands of colour will work out (this is a multicolour yarn).
Started Saturday 6 September 2003 but going very slowly on purpose as I'm enjoying it but don't yet have most of the yarn I need.
My original plans for the swatch:
Cast on 33 st
moss st 4 rows for border
1st row k1 p1 k9 p1 k9 p1 k9 p1 k1
2nd row k1 p1 k9 p1 k1 p9 k9 p1 k1
Rep 1st and 2nd row 6 times
k p k k k k k k k k k p k k k k k k k k k p k k k k k k k k k p k k p k k k k k k k k k p p p p p p p p p k p k k k k k k k k k p k
---
See Also: Kake's Projects